A couple of weeks ago - er... a month or so ago, I made my first online purchase from
Discount Yarn Sale
. I bought a couple different yarns to make the
Namaste

Yoga bag
and...
I was drawn in by the Mystery Bag description (as quoted from the website):
"Mystery bags are a surprise mixture of yarns and contain at least $50.00 worth of yarn, but cost only $29.99."
And even better - the Mystery Bags were (and are still) on sale for $23.99! I had to have one. Here are its contents (in 2 pics):
The likes...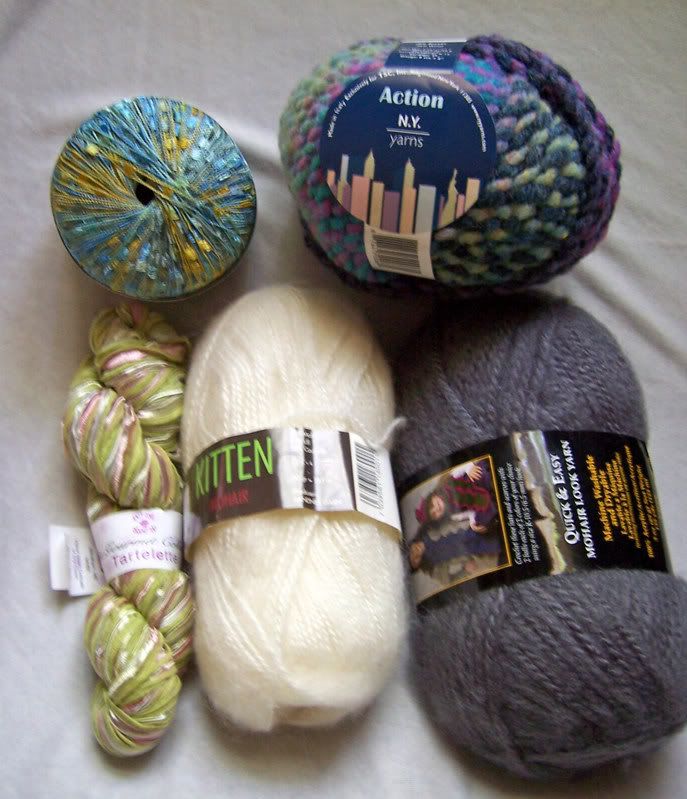 And they are (clockwise starting from top left) a beautiful ladder ribbon yarn called Eros by
Herwool
, a lovely acrylic/wool blend called Action by
NY Yarns
( I love the green, blue, and purples mixed together in this one. I've fingered this before at my local Ben Franklin), the 10
th
skein out of my ordered bag of Lions Brand Jiffy (they sell you a bag of 9 on the site - it was nice of them to put the 10
th
in my Mystery Bag), a lovely Mohair blend called Kitten Mohair by
SandnesGarn
, and another gorgeous ribbon yarn - this one from Knit One Crochet Too called
Tartelette
. Beautiful! I'm combing through some one skein books to decide what to do with these guys!
And the dislikes...
I guess the main reasons I don't like these are the colors. I'm not much of a purple or pink person. These are a deep purple chenille called
Sinsation
from Plymouth Yarn, a 100%
cotton
yarn called Italy Baby from Plymouth Yarn, a 100% nylon fuzzy yarn called Flash from Plymouth Yarn, and a novelty yarn from
Moda
Dea
called Lazy Daisy. I think I like the last one a little - I just don't know what to do with it....
I've started on the
Namaste

Yoga Bag
- and it's slower going than I thought. I love doing cables... but this is knitting up so tight! The gauge is good, so I'm not worried, but it's hard to purl into the cable rows after I've knit them. I'm trying to knit a little looser (I figure if the bag's a bit big, it will be OK. But I'm a tight knitter anyway. I'm debating... I found a cool lace yoga bag in
Stitch 'N Bitch Nation
-
here's
a pic of a completed one. I'm still thinking of subbing the Lions Brand Cotton Ease with the Lions Brand Jiffy that I got for the
Namaste
Bag... thinking thinking thinking. Although I do have a couple of skeins of the Cotton Ease in my stash...
I can't buy anymore yarn for a while. Sigh. We're out of money. But my birthday is coming up, and I have dropped some hints...