I knew I was going to love it. I
knew
it. It
appeals
to all my... well, I was going to say my Type A personality traits... but I'm not sure why that is. Maybe because it's all tight and clean-looking - and it covers up any mistakes I make.
Whatever the reason... I do love it. I want to felt everything.
Everything.
Here's the finished product. She's so BEE-
YOO
-TI-
FUL
!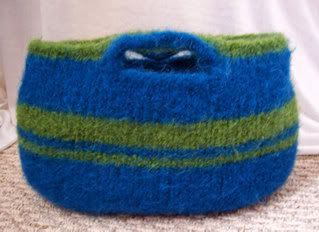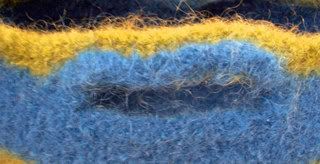 The buttonhole handles are a little wonky. See? The top of the bag is tighter than the top of the button hole, so the bottom of the handle kind of waves. That's OK. I'll still carry her until my dying day. Even hubby was impressed. I asked him if I could knit him something someday, and he said yes, as long as it wasn't tacky. Me, do anything tacky? Who does he think he's talking to?
So I started something new. Can you guess what it is?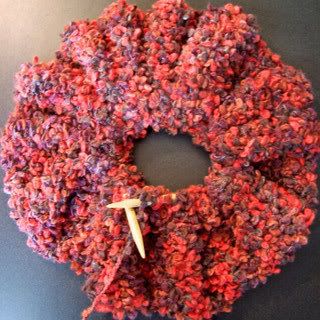 Let me know if you need hints. It's being knitted with Patons Pooch yarn, which is on sale sale for cheap cheap at Michael's.